Lobster takes centre stage
---
Home Mộc Restaurant offers lobster fans an extraordinary culinary experience far beyond popular recipes. Minh Thu took a dive into an ocean of lobster delicacies.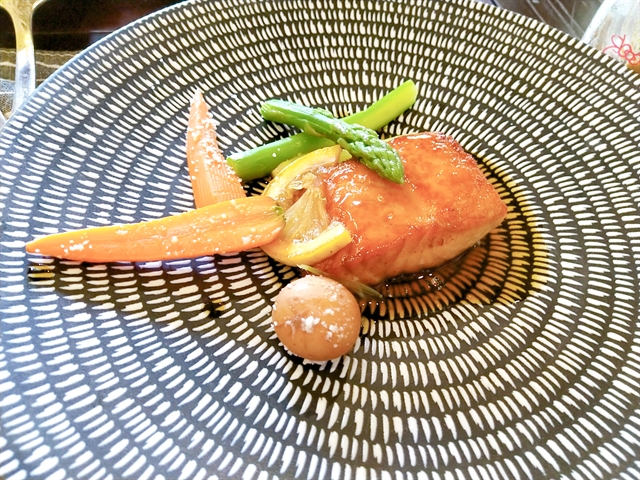 PINK & GREEN: Salmon fillet grilled with baby carrots, potatoes, and asparagus. VNS Photo Minh Thu
Apart from popular dishes such as grilled lobster, sashimi, lobster baked with cheese, and lobster porridge, the restaurant took me from surprise to contentment with its imaginative lobster dishes. A meal here is more like a food promenade, from appetisers and sides to mains and desserts. One plate after another first caught my eye and then soothed my stomach.
It wowed me not only with its delicious food and pleasant décor but also with the creativity of the chef.
Home Mộc's bush-lined entrance led to a patio where trees and umbrellas added a green touch and kept the sun at bay.
The villa is designed in traditional northern architecture, with brick walls, big jars used by people in rural areas to store soy sauce, rattan chairs, and bamboo lanterns. A restaurant in Việt Nam with a traditional style serving Western delicacies. Always a great fusion!
The set menu is so diverse it's best to come for lunch when your stomach has the space for lobster, salmon, steak, and foie gras.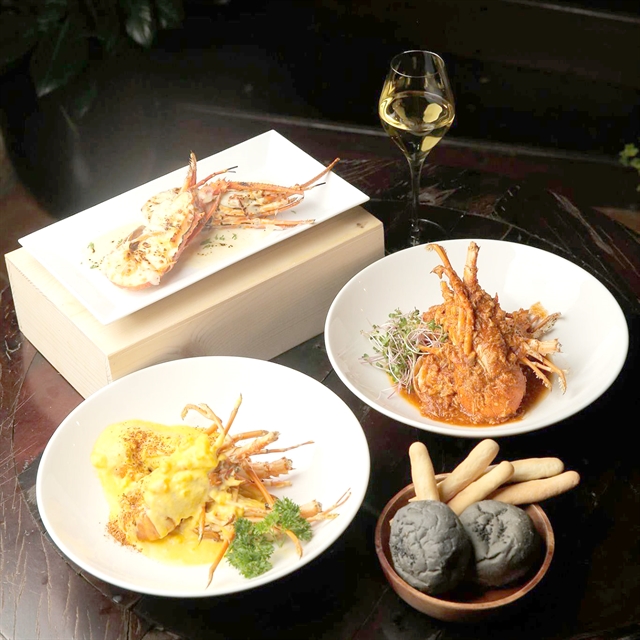 PERSONAL PREFERENCE: Choose from different sauces to go with the lobster. Photo courtesy of the restaurant
I ordered a set menu for VNĐ850,000 to live life to the fullest with lobster — the reason I was here. The chef was kind enough to offer 15 other delicacies in bite-sized chunks that lingered on the lips and mind.
I was impressed by the appetisers, of salmon, duck breast, foie gras, Japanese scallop, mushroom paste, and breadsticks.
After I tried each one, I cleansed the palate with pickled Japanese ginger so I could enjoy the full range of flavours in every dish. It's hard to say which one I liked most. All had their charms, bringing together the sea, the forest, wheat, and poultry to impress gourmands.
For the next part of the show, as in all European feasts, came soups and salads. Though Home Mộc serves lobster bisque, I went for a golden pumpkin soup and left the lobster for later.
The chef didn't disappoint as the main courses started appearing accompanied by a glass of white Château La Brulerie, the perfect pairing for lobster.
The first main was Nha Trang lobster with mild chilli sauce. It was charmingly red. I didn't waste a second digging in. It was savoury, hot, spicy, and supremely satisfying. The chilli sauce made me utter "see-see-see soo-soo-soo", but the lobster itself was sweet and only slightly spicy.
The next dish had a lot less heat — stir-fried lobster with rich golden egg sauce. The lobster was covered by a mustard-like sauce that was rich and buttery. It looked like hollandaise but with a yellow hue and lighter texture.
The baked lobster with creamy cheese sauce was the dish I had been looking forward to the most. Few things are more indulgent and scrumptious than tender lobster and the lovely scent of slightly burned cheese. The lobster was sweet and nutty, as it was sprinkled with cheese and baked to perfection. Though I was full, I still dipped some bread into the creamy sauce.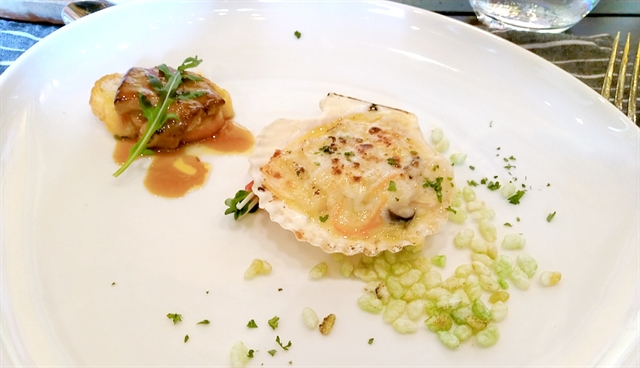 WELCOME ADDITIONS: Side dishes of scallops in cheese sauce and foie gras add to the experience. VNS Photo Minh Thu
You could also choose to enjoy the lobster with black pepper sauce, onion ginger sauce, or charsiu sauce.
When the lobster courses came to an end, the chef offered us a side dish of prime steak, salmon fillet, or sturgeon fillet. But I had to tell him I was too full!
Chef Nguyễn Thanh Tùng won Iron Chef Vietnam 2012 and the items on the menu at Home Mộc are his own creations and not found elsewhere. The cheesy lobster differs in that the chef tops it off with spicy aromatic leaves.
It's not cheap but it's worth it for the exciting experience of enjoying premium delicacies in a range of styles. I'll be back soon to see what else Chef Tùng has to offer. VNS
Source : vietnamnews.vn